Light Rye Artisan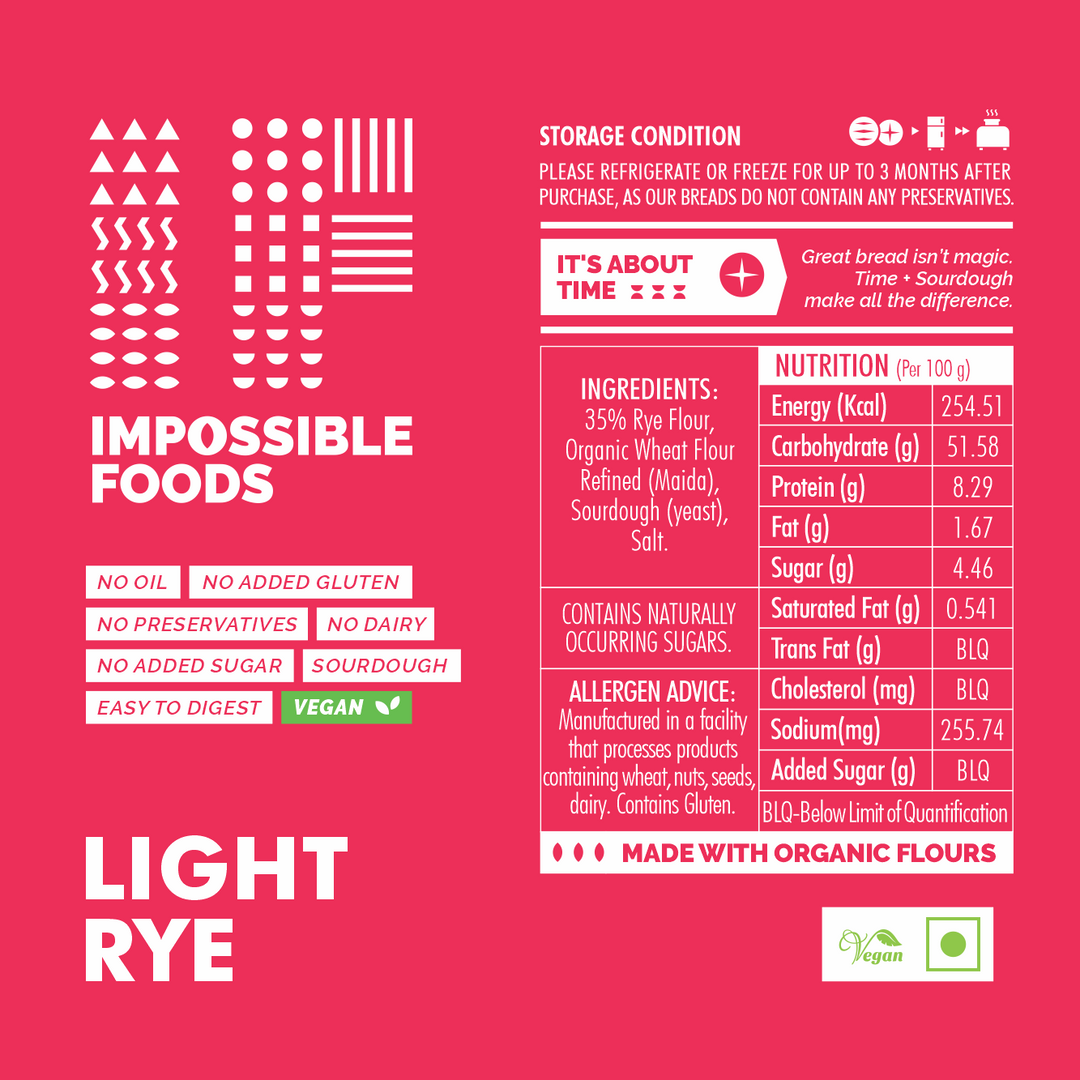 One of most loved bread with a balance of flavors and textures. With a tender crumb, subtle tanginess, and hints of earthy grains, this bread is a versatile choice for sandwiches, toasts, or simply enjoying on its own.

NO ADDED GLUTEN - NO PRESERVATIVES - NO ADDED SUGAR - NO OIL - NO DAIRY - LOW GLYCIMIC INDEX - EASY TO DIGEST - VEGAN.
Ingredient List: German Rye Flour 35%, Organic Wheat Flour Refined (Maida), Sourdough (Yeast), Salt.
It's fresh preservative free bread so it won't keep for ages and ages. That's Mac Donald's.
A soon as you receive your bread please store it in the fridge for a week or freeze it for up to 3 months (freezing bread is amazing- they keep perfectly and there's no waste). What's more you can put the frozen slices straight into the toaster- no need to wait (phew).
In the realm of bread surgery - preservatives- those sneaky little chemicals have been caught red handed causing mischief to our precious stomachs.
And since our guts are what hold our bodies together- no joke, they really do - no destruction allowed!
We make our breads from the ground up because that's what makes them digestible and taste fantastic (you can't rush greatness).
We normally deliver within 24-36 hours based on your location.
We make delivery during the day as early as possible depending on your location. Deliveries are normally completed by 11am. We don't offer early morning deliveries.
We deliver 6 days a week with no delivery on Tuesday. WhatsApp us if you need- we're on +918291046711